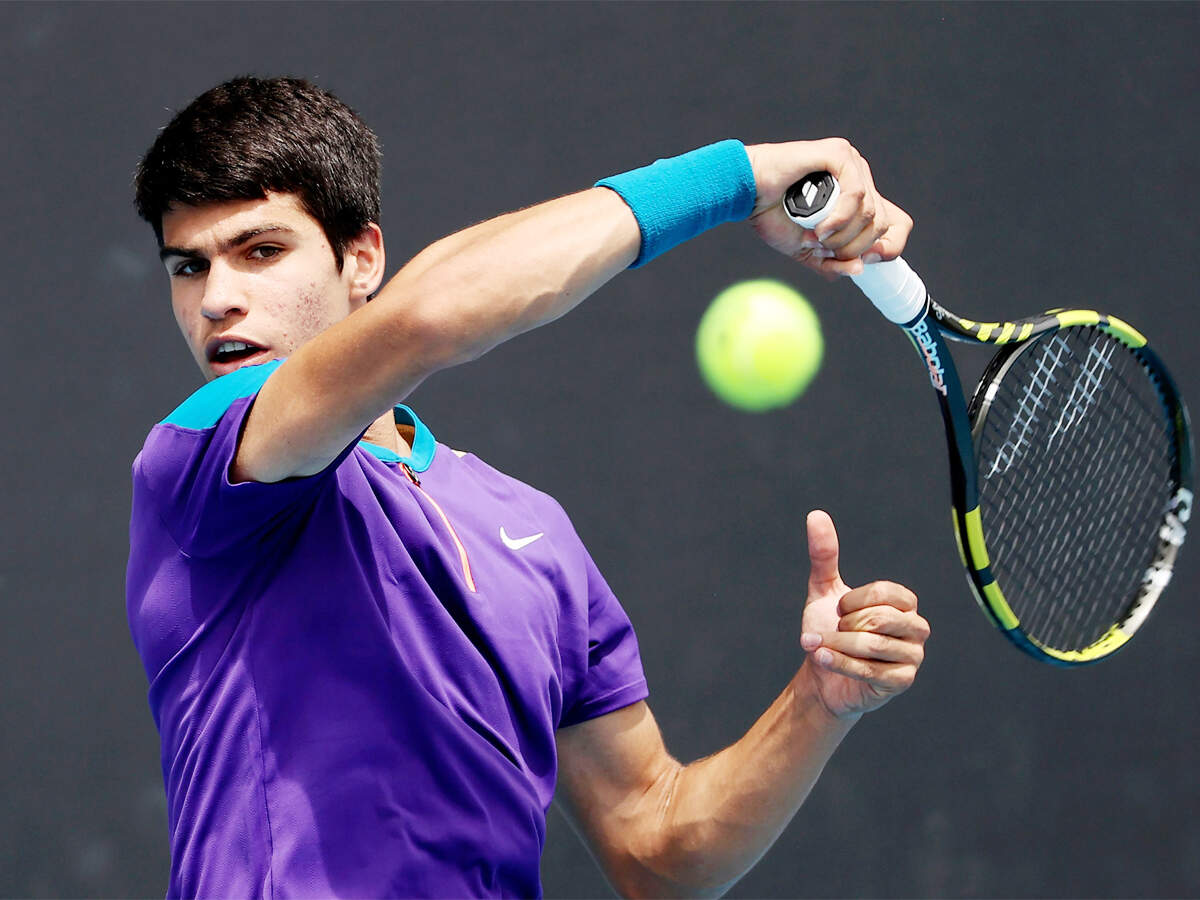 Carlos Alcaraz has been on plenty of sports news headlines for good reasons. He has been the talk of many, and some have even pitted him as the Nadal successor. Undoubtedly, he is already showing the signs that he would be one for the future going by his career trajectory since his first step into the pro world. 
We've seen what he can do over the years, and it won't be a surprise to see him win his first Grand Slam. He has already won multiple majors but is still coming short on the big stages. At the Roland Garros, Alcaraz was again close to the finish line, but Alexander Zverev saw him off in the quarterfinals.
It was a better result for him after he was knocked out in the round of 32 by Berrettini at the Australian Open. Therefore, we can say that the youngster is getting into his element and will continue to improve as the years go by. As a result, we believe that we are close to seeing the Spaniard lift his first Grand Slam title. 
However, it will take some doing to see that happen this year, but he is off to a good start after defeating Jan-Lennard Struff in a close battle that lasted for over four hours. It took a lot for the player to overcome, testing his resilience. There was no doubt that he could take on challenges, no matter how big they might seem.
With Alcaraz still alive in Wimbledon, we would love to see how far he goes in the competition and if he would finally break the Grand Slam quarterfinal woes. However, his most significant challenge to the title would be his mentor and countryman, Rafael Nadal. But let's look at the player's year and what is to come. 
The Australian Open and Start of the Year
The year started promising for the youngster, and every tennis fan had high hopes for the kid who would take the world by storm in 2021. We could all see his talent and how good he could get. Many pundits even said he reminded them of a confident young Spanish prospect from 2005 that went on to conquer the world.
With the Australian Open, Alcaraz wasn't a favourite to win, and with Djokovic out, he was in the running, but he couldn't make it out of the first round of the main competition. It wasn't a disappointing run, and he went on to win a few ATP majors. Therefore, we can see that there is a bright future for this kid. 
Majors and Multiple Titles
After the Australian Open, it was victory galore for the young Spaniard as he went on to snatch his first title of the year at the Rio Open, defeating Diego Schwartzman. Although he lost to Nadal at the Indian Wells, Alcaraz returned to victory at the Miami Open, winning his second title of the year. 
After that, he was victorious in Barcelona after defeating Pablo Carreno Busta. He got another title in Madrid to make it four for the year. However, Rome wasn't suitable for the youngster as he pulled out because of an injury. 
But he was able to return in time for the French Open. However, he couldn't break the jinx. 
Grand Slam Woes 
Since Alcaraz has shone on the court, it has been solid for the youngster, and we could see how good he can get. Undoubtedly, he would become one of the best tennis players as long as he continues on this path. However, he would need to break the Grand Slam woes, as he is yet to make it past the quarter-final stages. 
This year, he didn't even make it to the Australian Open quarter-finals after crashing out early. But he made it in France, despite coming from an injury. Therefore, it is an exciting update as he won his first Wimbledon match in 2022. 
We would be looking at how far he would go in this competition and the coming US Open.   
Wimbledon and Our Opinion
With Wimbledon already on, it is another chance for the youngster to prove himself on the world stage. He would be playing against some of the best players in the competition. Therefore, winning this competition would solidify what we already know. We would see him enter a new light that puts him on course for greatness.
If we are to make a bet for this tournament, we don't think Alcaraz would be our pick, but we would like to see the youngster make it to his first Grand Slam final and win. However, we believe he has time to start winning many Grand Slams, and he is the future of the Tennis world.